A Tradition of Benedictine
Craftsmanship
Our ceramics represent a tradition of Benedictine craftsmanship and labor by which Saint Andrew's Abbey community helps to support itself. Every ceramic piece is entirely hand-made here at the Abbey. Each is the expression of the wonder of creation and the joy of the Divine Presence. We have released over 850 designs, and the collection continues to grow. You can purchase pieces here in our online store as well as in hundreds of gift shops across North America.
About the Artist
Fr. Mauer van Doorslaer
Born Etienne van Doorslaer in France, Father Maur van Doorslaer, O.S.B., was a well known artist, Catholic priest, and a Benedictine monk of St. Andrew's Abbey in Valyermo, and Sint Andries in Brugges, Belgium.
Fr. Maur van Doorslaer, O.S.B. is the original designer of all our ceramic creations. He was born in France in 1925 and grew up in Belgium in a family of farmers and flower-growers. Beginning in 1942, he spent seven years studying in the Decorative Arts Department of Sint-Lucasinstituut in Ghent. He drew, sketched, painted and studied architecture and sculpture.
In 1951, he entered the Monastery of Sint Andries in Brugges, Belgium, the motherhouse of St. Andrew's Abbey in Valyermo. As a monk he studied philosophy and theology in preparation for his ordination in 1958. He was then sent to Paris in 1959. There he visited many galleries and exhibitions, and kept abreast of the trends of the modern art world. He was especially interested in non-figurative art including Geometric Constructivism, the Lyrical Abstraction of the Ecole de Paris and Abstract Expressionism. He shared a kindred spirit with many modern artists including Alberto Magnelli, Dan van Severen (a former classmate and friend), Jef Boudens and Arno Brys. The art of Jackson Pollock and Paul Klee strongly influenced his early works, as did the strict geometric order of August Herbin and Frank Stella and the dark monochromes of Ad Reinhardt.
In 1965, Fr. Maur visited St. Andrew's Abbey in California for the first time. He was asked by the Prior, Philippe Verhagen, to help the monks establish a ceramics industry in Valyermo as a means of support for their monastery. During this ten-month period, he visited Mexico to study their folk art and became inspired to produce a new art form for the fledgling industry. He called this new ceramic art his "cookies", because of their simplicity of form and child-like attitude and because they reminded him of the Saint Nicholas cookies given to children in his country. The hallmark of his designs are the large, wide open eyes expressing childlike wonder at the beauty of God and the created world. His artwork is simple, joyful, humorous and kind. It touches people where they "are," not where they "should be."
For 36 years, Fr. Mauer spent five months of the year (May to October) designing ceramics for St. Andrew's Abbey. A majority of his designs came from customer requests. During the rest of the year he lived, prayed and worked in his own monastery, Sint Andries Abdij in Belgium. After complications from cancer, he passed away on February 1, 2013.
Today we produce more than 425 of Fr. Mauer's designs for sale in the United States and abroad. Our ceramics are carried in more than 600 shops across North America. Hundreds of collectors look forward to each year's new designs.
How They are Made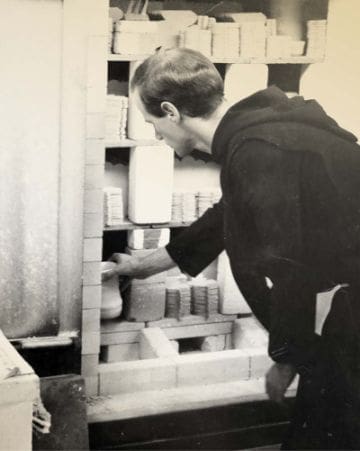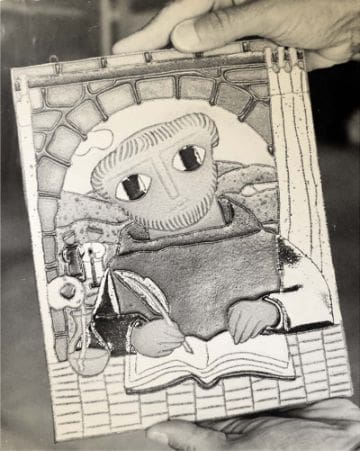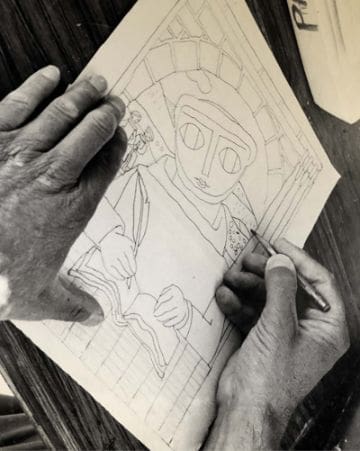 Each new design begins as a drawing which is traced onto a plaster of Paris mold. This mold is then carved by hand using a stylus. Every ceramic with this particular design will be made using this mold. Each ceramic is begun by rolling out clay to a uniform thickness and applying it to the mold. We use a special clay for our artwork: a blend of clays and grog which, upon firing in a kiln, yields a natural earth tone and texture.
Next, the prepared clay is then applied to the mold. It is then most carefully separated from the mold and placed on the cutting table. Here, each piece is cut out by hand using a fine needle. The finished, cut-out pieces are called greenware. The greenware is taken to the drying room where it dries for 7-10 days. When the greenware is dry, the kiln master inspects every piece and moves the good pieces to be loaded and fired in the bisque kiln.
Once the greenware is loaded into the kiln, the temperature in the kiln is raised very slowly until, after 26 hours, it reaches a temperature of 1750 degrees Fahrenheit. This process turns the greenware into "bisqueware" that is ready to be washed and then glazed or painted.
Now the painted or glazed bisque is now ready for the final firing. The glaze kiln is loaded once again by the kiln master. The final firing lasts 11-12 hours and reaches a temperature of 2350 Degrees Fahrenheit. This gives the bisque a near-Porcelain quality. Finally, the finished product goes to the inspection room for quality-control examination.
More Information
Contact
Ordering
Please contact us prior to ordering a large quantity of one plaque in order to discuss the production and delivery timeline.
Due to current precautions during the pandemic and increased order volume, delivery times cannot be guaranteed. We appreciate your patience and understanding as we work extra hard to ensure your order is shipped as quickly as possible.
Retreats
At Saint Andrew's
Come join us for one of our many group retreats, or enjoy the opportunity to spend time alone in quiet prayer and solitude.