Whatever Brings You to the Abbey,
You Are Welcome Here
You will find the Abbey to be a place of peace and tranquility rooted in the rhythm of the monastic day. All guests are welcome to join the monks for liturgical prayer. You just might find your life changed during your time here! We host a variety of weekend programs, day retreats and workshops throughout the year. Download our brochure to see the current schedule.
What kind of retreat are you looking for?
Let all guests who come be received as Christ, for He is going to say:
"I came as a guest, and you received Me."
The Rule of St. Benedict, Chapter 53
Facilities and Accommodations
Retreat Center
The Retreat Center provides accommodations for overnight guests participating in directed and private retreats. It can accommodate up to 34 people. Facilities include a lounge, meeting room, dining room and seventeen guest rooms. Linens, towels and soap are provided.
Each guest room is furnished with the following:
2 twin-size beds
Private bathroom
Private patio with wicker chairs
Small desk
Heater
Floor fan
Please note: there is no Wi-Fi in the rooms, but it is available in the guest lounge.
Check-in: 3:00 p.m. | Check-out: 10:00 a.m.
Conference Center
The Conference Center can accommodate groups of up to 56 people for a day retreat or workshop. Nearby you will find our gift shop with a variety of books, religious articles and ceramics.
Meals
Meals are served homestyle and shared with the monks.
Silent Breakfast: 8:00 a.m. | Lunch: 1:00 p.m. | Silent Dinner: 6:00 p.m.
Pets and Picnics
Neither pets nor picnics are permitted on Abbey grounds.
Internet Access
Given our remote location, please be aware that internet service at the Abbey may be slow or unavailable.
Contact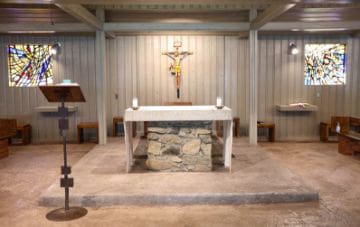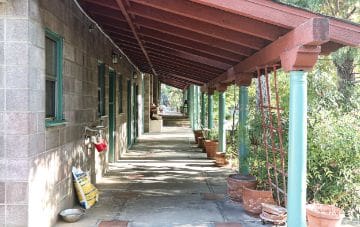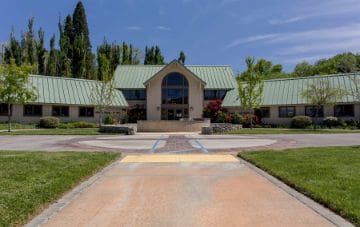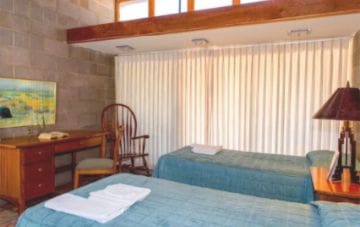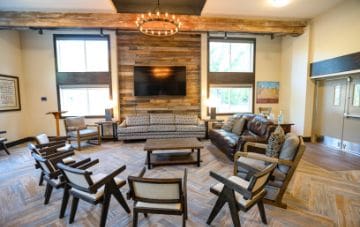 The Abbey
Ceramics
Our ceramics represent a tradition of Beneditine craftsmanship, and help support the community of Saint Andrew's Abbey.